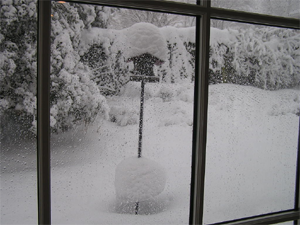 Yes, depression can be associated with winter. Those living in northern climates often see a lowering of mood during the winter months.
We all feel it to one degree or another. These months can be brutal.
Low light levels can lead to hormonal shifts resulting in lethargy and depression sometimes called the "Winter Blues", Depression, or "Seasonal Affective Disorder." (SAD)
This is a time when it's more important to engage in self care. Exercise, yoga, or indulgences like a therapeutic massage or a warm bath. Choose to eat well. Take into account the need to eat for energy. It's critical to eat foods that may help boost and sustain you such as walnuts and blueberries.
When the weather is rough, we can take advantage of it so a rainy or blustery day is a perfect time to visit museums, catch a comedy show or concert, or see a play.
Is this a SIGN of DEPRESSION or Seasonal Affective Disorder?
As a Counselor in Chestnut Hill and Lower Gwynedd, PA, I see people struggling more with sadness during the winter months.
Your mood may dip. You may experience irritability, excessive worry, difficulties with sleep and/or appetite. Feeling blah.
Or you may find depression is interfering with your ability to function well at work or at home or within your relationships.
Perhaps you are lashing out at your kids or partner.
This is a signal to seek professional care or a Depression assessment with a Licensed Counselor or Psychologist. Or talk to your doctor as some find medication helpful alone or in addition to therapy.  Any thoughts of harming yourself or others is a sign to seek immediate help.
WHAT CAN YOU DO?
What can we do if it's just a winter time slump?
Embrace the season by taking advantage of the unique sights and sounds. Now is the time to go sledding, take a brisk walk, connect with others, volunteer, do something artistic even if you aren't artsy, try snowboarding.
Curl up by a fireplace and if you don't have one visit a friend or restaurant that does.
Light and sun exposure also help. Recent research shows that low levels of Vitamin D may be associated with depression. A Physician can perform a simple blood test to check your Vitamin D level and rule out any other physical contributors or medication side effects that can contribute to depression or Seasonal Affective Disorder (SAD).
If a depressed mood is interfering with your ability to perform well at home or at work or you need help pulling out of the sense of despair and feeling stuck, counseling with a qualified counselor or health provider can help.
CBT
Effective therapy for depression can help you regain interest and hope in the future, your relationships, your career, or activities. Cognitive Behavioral Therapy or CBT has been shown to be effective for many who struggle with Depression and/or Anxiety. Others tools include supportive counseling and Mindfulness techniques.
Deb Owens is a Licensed Professional Counselor & Therapist providing counseling to adults and couples in Chestnut Hill, Philadelphia, PA near Lafayette Hill, Blue Bell, and Fort Washington, PA.  She specializes in Anxiety, Depression, Relationships, and Alcohol and Drug issues. 215-802-6521 www.debowens.com