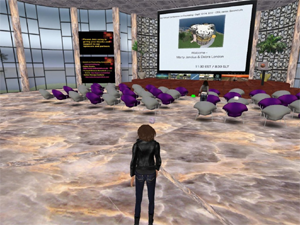 I'm in my counseling office in Chestnut Hill pondering how to get more of those pesky continuing education credits that all licensed and certified counselors must obtain within their credentialing cycle.
An intriguing announcement on a professional message board for therapists catches my eye. It details a free 3 day Virtual Conference on Counseling (2VCC) taking place in Second Life.
Now as a Mom of Millenials and avid reader I've heard of SL. I also counsel a few digital natives who believe it's a good way to unwind. We talked about the potential down side since it can be addicting.  There are certainly areas of SL, like the Internet, that should be avoided if you are trying to use your time wisely in healthy pursuits.
With one client we work on boosting real life resources, supports, and recreation to off- set the pull of SL, Farmville and World of Warcraft (WOW).
As I drop into the live video stream of the conference, which is explained as a way to experience it without being in SL, I observe a workshop occurring in real time. NBCC is offering free CE (continued education) credits but only if you attend within the SL construct, providing an incentive to check it out.
My interest piqued, I enroll in SL so I can attend the counseling conference "in world' as they say. Registering is easy but I have no time to check the orientation tools.  It's already late in the evening, so for the life of me, I can't figure out how to get to the virtual conference, even though one of the organizers says she sent me a LM (land mark).
Seeing my distress, this kind soul "teleports" me there and low and behold, it's set up exactly like a real conference, complete with banners, a power point screen, stage and refreshments.
On my own, I figure out how to walk into the session and take a seat. After noting my Avatar's red leather jacket and spike heels I attempt to alter my attire to appear more professional.
Suddenly, I find myself bald.
I give up on the hair endeavor and instead choose to listen and watch the presentation.  It's similar to lots of live webinars I attend through various professional associations although, in addition to sound and slides, I feel part of a unique learning community.
A chat is occurring amongst attendees as the session unfolds. It's well done and the few technological glitches are addressed as much by the attendees making suggestions as by the organizers.
Despite my promise to never use this word, I have to admit, the whole experience is "epic".
Why?
It's compelling to hear some of the ways other professions are using this technology, including teachers establishing worlds where students can participate in pioneer life. Where this all fits for Psychotherapy is beyond my expertise but DeeAnna Merz Nagel, who heads up The Online Therapy Institute, is a wealth of information on this subject matter. She maintains a traditional F2F (face to face) practice while also working with clients via Skype and the Internet. She has an office in SL and it's worth checking her web page:http://www.onlinetherapyinstitute.com.
As a Licensed Counselor with a private practice in Chestnut Hill, Philadelphia, PA I get all the concerns about ethics and confidentiality. But I rest assured that the folks that are at the cutting edge of this are on top of these things and aggressively addressing them through traditional organizations and boards to ensure best practices.
Exiting the conference I can't resist a brief detour to visit two of the myriad of incredibly vivid worlds in Second Life.  I stumble upon a deep sea setting and a fire pit chat. The latter encounter turns ugly when a few teens, allegedly from the UK and Japan, start using slurs.
Returning to the Real World I'm grateful for this chance to see what all the fuss is about.  I've glimpsed what the next generation of potential clients may experience.
Will I go back?
It's doubtful that I'll do so for social purposes.  However, as a counselor training process I've discovered an excellent way to obtain professional education. I recommend it to my peers as another option to consider and look forward to seeing how it develops.
The next evening I find my way back to the conference site to grab the articles that were mentioned by a presenter.
There's a kiosk.
It looks like I just need to identify which clicks to use to accomplish the task.  Another Avatar comes along, asks if I know how to locate the materials.  He has the impression that they might be available in another room but leaves before I can request that he teleport me there.
While I wait, hoping he'll return, I send a thank you email to the avatar associated with the sponsoring organization www.onlinevents.co.uk that guided me here.
Perhaps she's been keeping an eye on my newbie antics since she IM responds and, oh so kindly, offers to assist me in getting back my hair.
Deb Owens is a Licensed Counselor & Therapist in Chestnut Hill, Philadelphia & Lower Gwynedd, PA. 215-802-6521. Deb specializes in anxiety, relationships, young adults and mid-life transitions, and those effected by their own or a loved one's alcohol or drug use. www.debowens.com